If you want to grow your business in today's marketplace, you need to go beyond tactics. You have to develop a philosophy that drives your actions and the results they achieve. The challenges you face are part of the process, and thinking you shouldn't have them only keeps you from reaching your personal and professional goals. 
Taylor Welch shares the essential lessons he's learned on his journey that have helped him and his team at Traffic and Funnels build a multi-million-dollar business. We dive into the future of the Information Age as well as the strategies you can use to choose who you attract and work with, get "unstuck" from stagnation, and expand your thinking. 
Some highlights from this show:
The mantra that gets Taylor Welch fired up each day (1:57)Thinking you shouldn't have problems is what takes you out of the game (06:52)The higher up the success ladder, the higher the threshold for pain (9:52)From the Information Age to the Transformation Age  (11:30)Evolving the clients who you attract (14:45)Successful people say "no" to almost everything (18:45)What Jay Abraham taught Taylor about longevity  (22:19)The business of "unlocking" others (25:50)How gratitude expands your thinking (30:35)
Notes from Online Supercoach Podcast with AJ Mihrzad:      Taylor Welch is the Co-Founder of Traffic and Funnels, Wealth Cap Holdings and is also the CEO of The SalesMentor. They help clients build online digital marketing systems and drive paid traffic to them. They teach you how to never have to "hunt" for new clients again (they'll come to you) by using their "Client Funnels" & "Traffic Generation" strategies.Connect with Taylor Welch:
http://www.trafficandfunnels.comhttps://www.instagram.com/taylorawelch/https://www.facebook.com/taylorawelch
Online Super Coach Website: http://www.OnlineSuperCoach.com 
Black Friday Sale Insiders + Bonus ContentWe are launching something crazy on Black Friday. It'll be $75-120k in real product value for INSANELY cheap. The price will taper up as the day goes by, so If you want to be first to know and lock in the cheapest price — follow the link below, add yourself to this list and we'll contact you FIRST. – http://blog.trafficandfunnels.com/blackfriday
Highly Recommended: Turn ONE Lead Into THOUSANDS…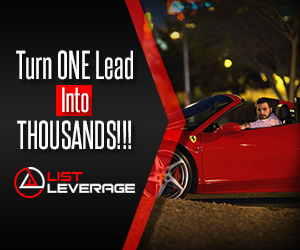 Note: All credit goes to the video creators. They are not affiliated in any way with jasonmangrum.com. If you enjoy the value, visit their site and show them some love!